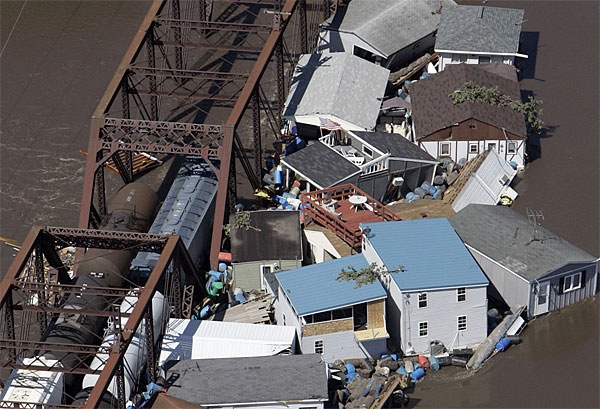 4 April 2009
Just like Katrina and New Orleans, the flooding that devastated Cedar Rapids, Iowa, has slipped from public consciousness, even though the locals are still struggling to repair incredible damage. Of great concern to many was the damage suffered by the Peoples Savings Bank, designed in 1911 by Louis Sullivan and now owned by Wells Fargo. According to a statement given to the press last June by bank spokesman Mark Long, the building stood in as much as 12 feet of water at the height of the flood on Friday 13 June 2008. A recent trip gave me the opportunity to visit Cedar Rapids to see whether the bank has reopened.
Sadly, it has not. Like much of downtown Cedar Rapids (as noted in the 22 March 2009 edition of USA Today), the building is in an uneasy place between abandonment and usefulness. Fortunately, a decision was made last November by the city fathers that a flood control plan would not force the demolition of the bank.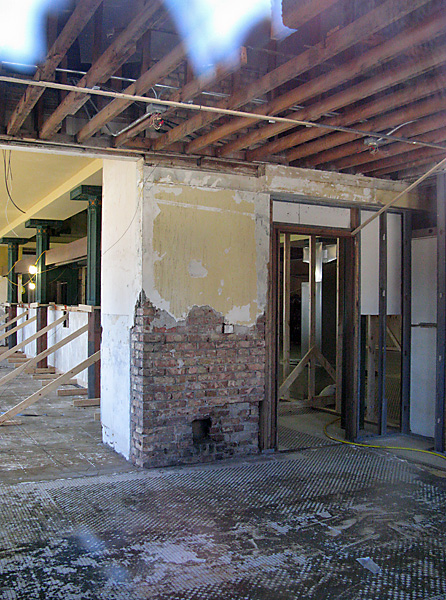 This view shows one of the bank's four great piers, with the area occupied by the tellers' counter beyond. It's not clear from these photographs (taken through very grimy windows) what the building's current situation is—clearly, the interior has been cleaned and stabilized, but one can't know the true extent of the damage or whether a restoration is in the works.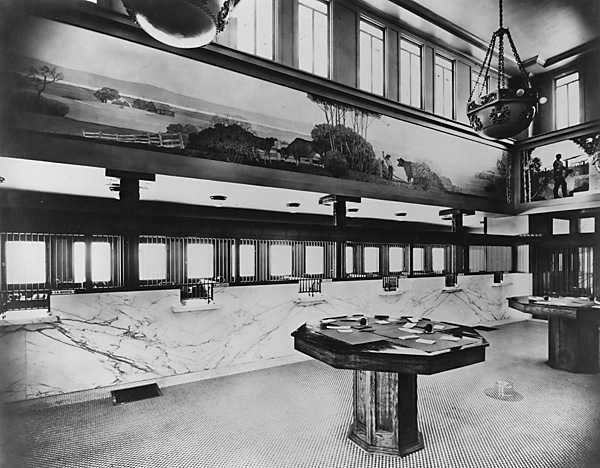 Now that a decision has been made not to sacrifice the building on the altar of flood control, we may hope that Wells Fargo moves forward with a complete restoration of this significant piece of American architectural history.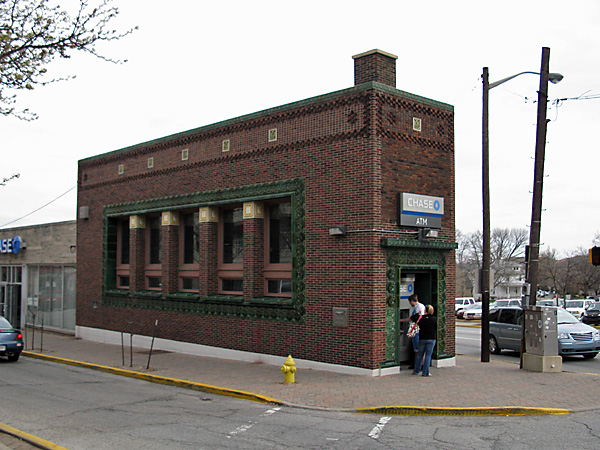 This same trip included a stop in West Lafayette, Indiana, home of the Purdue State Bank, one of Sullivan's lesser-known bank buildings. Though still a bank, it is yoked to an unsympathetic addition, an ATM occupies the former front doorway, the exterior has been inexpertly tuckpointed (note the original tinted and raked mortar joints in the area previously covered by a sign over the front door), and the interior has been completely altered. Nevertheless, it is still witness to how elegantly Sullivan dealt with a modest budget and exceedingly difficult site.