30 January 2009
David Rago's 15 February auction includes four terra cotta blocks (items 1314-1317) designed by George Elmslie for the Thomas A. Edison School in Hammond, Indiana. I have previously commented on the sad loss of these schools here and here. Based on previous auction results and the current state of the economy, I will be surprised if these fragments sell for their estimates.
22 January 2009
Toward the end of last year, architect Richard Kenyon, a veteran Traveler, sent some information he accumulated through the years about a number of PS buildings that, as it happens, are missing from these pages. It seems worthwhile to comment on each building individuallly.
• The first item is essentially a link to a site about historic architecture in Gary, Indiana, and specifically the work of Maher & Son there. Of the several buildings designed by George & Philip Maher, the Elks Temple is easily the most Prairie-oriented, though it has been altered. Does any reader live in the area? Current photographs would be welcomed.
• Claude & Starck were well known for the design of small Sullivanesque public libraries, of which those in Tomah, Wisconsin, and Hoquiam, Washington are typical. Richard sent an image of a postcard seen on eBay, depicting the very similar Mary Fletcher Library in Milledgeville (Carroll Co.), Illinois.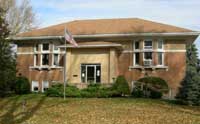 A Google search of various likely terms reveals a library directory page about Wysox Township Library in Milledgeville with the photo above. An inquiry sent to the library brought a friendly and helpful response from Jan McKean, Director of the Wysox Township Library. I've composed a page for the Milledgeville library based on this information.
• A photo postcard entitled, "Residence of Mrs. Mary E. Harroun, Watseka, Ill." reminds me that another Traveler, Rick McNees, photographed this house recently. I have made a page for it. It is a credible PS residence in the Fireproof mold by a firm unfamiliar to me: Lewis & Stuebe. A Google search shows that this Danville, Ill., partnership existed only from 1910-1912.
• Richard sends a copy of a colorful picture postcard of the fabulous Mohammed Temple in Peoria, sometimes referred to as the "Shriners' Temple", the "Shrine Theatre" or the "Shrine Mosque". As it so happens, I spent a little time several months ago researching the current condition of this building, discovering to my delight that it still stands. It is now the home of Riverside Community Church, which bought the building in 2000 for $550,000. An eclectic design, the Temple shows the influence of Wright's Larkin Building.
• A similar case is St. Anne's Hospital in Chicago. Its closure in 1989 imperiled the 1902 complex designed by Richard E. Schmidt, which included a chapel designed by Schmidt's frequent collaborator, Hugh M.G. Garden, an early Prairie practitioner. An article by Rolf Achilles & Timm Wittman in the November/December 1989 issue of Inland Architect (pp. 8–9) described the chapel:
Until recently, the chapel contained a central altar in the recessed square apse flanked by two side altars. The altars have been removed. The rest of the decorative program consisted of nine figurative stained glass windows executed by the Munich firm of Franz Mayer, 12 Sullivanesque square crosses atop the buttresses, a painted coffered ceiling, and 14 conventional stations of the cross, all consistent with Catholic convention.
The articulation of walls and windows in the chapel space was an innovative expression of the Prairie School aesthetic, as was the use of brown glazed brick and tan limestone. A coffered ceiling inspired by the Italian Renaissance covers the room. In its decorative patterns and palette, however, the ceiling was immediately inspired by Sullivan.
The space is a study in contemporary solids and voids, the horizontality of which, as expressed by the bricks and stone courses, is offset by vertical counterpoints provided by the buttresses and deeply recessed windows. The windows are set behind a grid of square piers turned 45 degrees to the wall plane. This turning of the piers opens up the wall without interrupting the plane of its surface and emphasizes the windows as pockets within its mass. Buttresses flanking the windows provide a further transition between vertical and horizontal, solid and void in not only the elevations, but also the plan.
Like the Mohammed Temple, salvation for St. Anne's Hospital came from a church—in this case, Bethel New Life, a faith-based community development organization. Now styled the "Beth-Anne Life Center," the 9.2 acre hospital complex provides a variety of services to the neighborhood. The original chapel has been reborn as the "Cultural and Performing Arts Center." It is unclear how much of Garden's original design has been retained; no pictures of the chapel interior can be found on the Bethel New Life website. I have inquired with several parties for further information.
• Several Gem State Prairie buildings are profiled in "Saints & Oddfellows: A Bicentennial Sampler of Idaho Architecture" by J. Meredith Neil (1976).
3 January 2009
Happy New Year! The holiday rush has kept me from updates toward the end of 2008, though it was not for want of material to add. Both Butch Kmet and Phil Adams have taken photographs in Oak Park, whose pages here have suffered from lack of images. But that is slowly being rectified, as photographs from these gentlemen have been added to the city that is the birthplace of the Prairie School.
It has surprised me that there have been so few contributions from people living in Oak Park, River Forest, and other Prairie-rich Chicago suburbs. According to the PST's web statistics, visitors from Illinois represented 14% of total site traffic in 2008, and visitors from Oak Park specifically were the second largest segment in Illinois after those from Chicago. It's certainly not my intention to shame anyone into sending something about their house or neighborhood—far from it. But it is curious that folks from the remotest outposts of the Prairie School, in places like Utah and Florida, have sent extensive collections of photographs and historical data, while little has come from the home of American progressive architecture.
Soon to be added: notes from all over, courtesy of Richard Kenyon.