Random Notes - A Blog
22 November 2006
The history of Purcell & Elmslie's country bank buildings can be read in a fifteen-mile triangle in southeastern Minnesota. The earliest of the three, in Grand Meadow (1910), reveals the influence of Sullivan in the ornamental cartouches and griffins. Le Roy (1914), near the Iowa border, is the simplest and most direct of the three, and proves that budget stringencies were no impediment to creativity. The last of these banks stands twelve miles up Hwy. 56 in Adams (1920), and prefigures Elmslie's later, independent work in Topeka and Aurora. Generous site visitor Jeff Brueske sends several images of P&E's bank in Adams, where original features can still be seen despite later accretions.
9 November 2006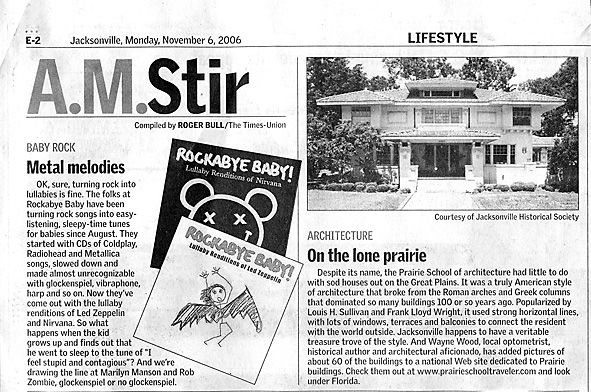 It's an interesting and somehow fitting twist that this site, devoted to the idea that the Prairie School exists beyond a few iconic buildings, received its first widespread notice in Florida, a place few casual architecture buffs would associate with the style of Wright, Griffin and others. The Sunshine State is home to dozens of Prairie buildings, many designed by Henry John Klutho in Jacksonville. Due to the incredible efforts of Wayne Wood, this heritage is available for your pleasure and edification in the Florida pages of this site. Wayne's efforts extended to local publicity, with the result that the Florida Times-Union ran the featurette above. This in turn resulted in a ten-fold increase in visitors to this site in the past week.
As always, I welcome your comments about this site or any Prairie School building.
John A. Panning, Lake City, Iowa