10 December 2008
Two days ago, the Curtis Yelland House in Mason City was ravaged by a fire started by an unattended candle. Designed by William Drummond in 1912, the house had been for sale for several years but recently had a new owner, Portland, Oregon architect John Preston Westfall, who was restoring it. No one was in the home at the time of the fire.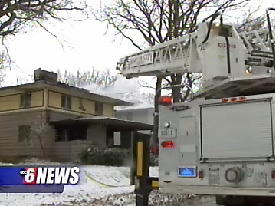 Though archetypally Prairie, Drummond's house stood out among examples of progressive architecture in Mason City, which is dominated by Walter Burley Griffin's lithic buildings. Like the design of Frank Lloyd Wright's neighboring 1908 Stockman House, Yelland is based on Wright's seminal "Fireproof House for $5000," published in the April 1907 issue of The Ladies Home Journal. Drummond's Oak Park sensibilities appear in the board & batten siding and leaded glass windows.
Though first described as a "total loss," it appears from news footage that a good portion of the building fabric is still intact, and Westfall has expressed an interest in restoring the house.