Curtis Yelland House
37 River Heights Drive
Mason City, Iowa 50401-4031

William Drummond, 1910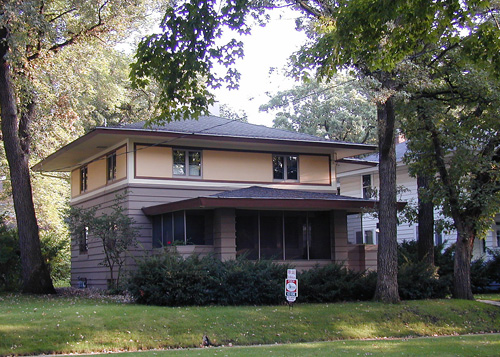 William Drummond was an architect in Frank Lloyd Wright's office, and was supervising construction of the City National Bank/Park Inn Hotel buildings after Wright departed for Europe in 1909 in the wake of scandal surrounding his affair with Mamah Cheney. (Cheney, incidentally, was a native of Boone, Iowa.)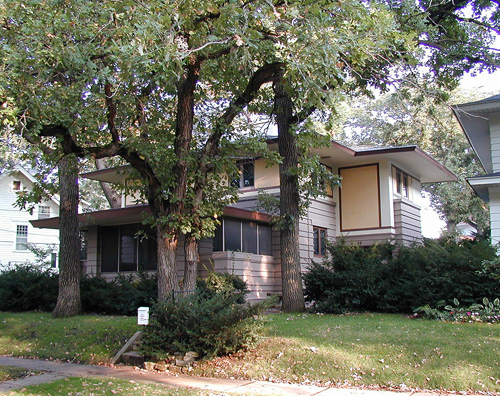 Drummond's design has a lightness possessed by no other Prairie School buildings in Mason City, the majority of which are constructed of stone or stucco. Drummond's employment of leaded art glass windows is also at variance with Mason City practice, where even Wright's windows had wooden muntins.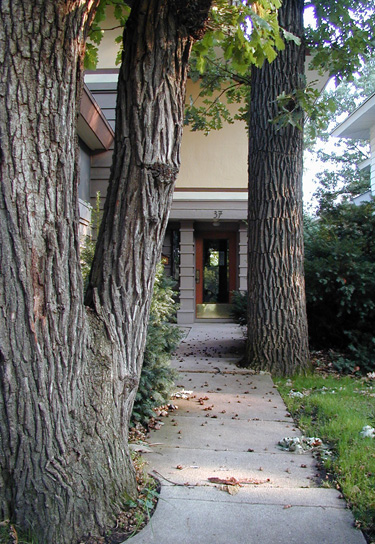 The side entrance to the house makes the front porch private, as the porch's only entrance is from the living room.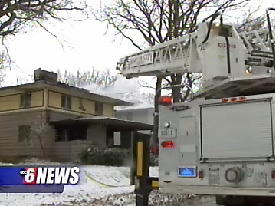 The house was damaged by fire caused by an unattended candle on 8 December 2008. On 10 December 2008, the owner, Portland, Ore. architect John Preston Westfall, stated he hoped to rebuild, but was unable to raise the necessary funds. Mason City developer Jeff Tierney subsequently bought the house, rebuilt it and brought it up to modern building codes. A retired couple, who are Wright aficionados, bought the house from him in the fall of 2011.
Placed in National Register of Historic Places, 1980.
References
• Gebhard, David, and Mansheim, Gerald: Buildings of Iowa. Oxford: Oxford University Press, 1993, p. 418.
• McCoy, Robert E. Mason City Walking Tour Guide. Mason City: River City Society for Historic Preservation, 2003, p. 25.
• Wilson, Richard Guy, and Robinson, Sidney K. The Prairie School in Iowa. Ames, Iowa: The Iowa State University Press, 1977, p. 100-01.