Random Notes - A Blog
24 January 2008
A trip to Waterloo a week ago gave the opportunity to view the work of local architects Mortimer Cleveland and Howard Burr. Neither are terribly well known, and it's an interesting exercise to view their work and from it to judge their commitment to progressive architectural ideals.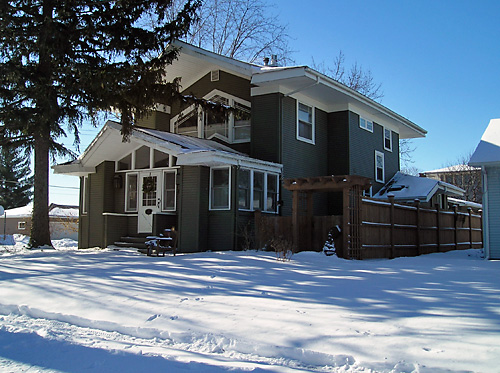 Burr seems to me to be the more interesting of the two, based on the built examples I saw. Perhaps most significant is his Briggs House in nearby Grundy Center. It shows a clear familiarity with Walter Burley Griffin's work, as does his Bailey House, only a few blocks away. Wandering away from the Prairie theme toward the truly eccentric is his residence at 145 Prospect Avenue in Waterloo's Highland Park neighborhood. Part railroad depot, part civic building and part California bungalow, this house is a truly original composition. The massing of the house suggests the comglomeration of individual room-sized volumes; it would be very interesting to see a floor plan. Burr designed other impressive residences at some distance from Waterloo, the Edmonds House in Marcus being a good example.
Cleveland gives the impression of an architect whose progressive notions came from a subscription to The Western Architect. Some of his efforts are as eccentric as Burr's: a now-unoccupied duplex in Waterloo is a frothy mashup of river rock, brick, stucco and California-style timbering, and a house at 202 Highland has a bravura chimney. Neither are Prairie, but each is some response to the impulse of Progressive architecture. Cleveland designed the majority of homes in the previously-mentioned Highland Park neighborhood, which range widely in style. It's telling that his own house at 215 Prospect Avenue is not in the Prairie mode but a sort of generic Georgian. Perhaps the dwelling here with the greatest degree of Prairie integrity, at least in exterior appearance, is the Ortner House, whose stucco walls are covered in busy wooden trim.
8 January 2008
The most recent number of Don Aucutt's intelligent and quirky "Prairie" magazine arrived today, with news about four Illinois residences. His research identifies owner and architect for several "Maher-likes", houses in Bloomington, Joliet, Lincoln and Pontiac, designed in emulation of Maher's Schultz House. I photographed the Bloomington house last year, but as of this moment do not have photos of the other three.
6 January 2008
Notes from All Over Last spring, Richard Kenyon of Kenyon & Cutler Architects sent a CD of images and other materials for a number of buildings not documented on this site. The data was incorporated almost immediately, but for reasons that are hard to explain, the photos have languished until now. Richard's traveling gave him the opportunity to visit some far-flung PS buildings, from New Jersey to Alberta.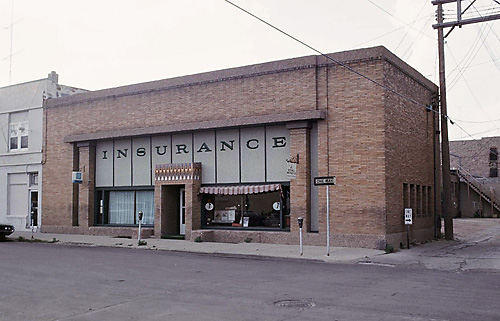 The most interesting additions to me personally are buildings relatively nearby, in southeastern South Dakota. Most distant in this series is Purcell & Elmslie's virtually unknown Branson Building, a structure that combines the post-and-lintel arrangement of Winona with the decorated portal of Hector, and, unusually, has its main entrance set on the long face of the building. Archival photos show that it was almost immediately converted from a banking establishment to an insurance office. Next door is an older commercial building that P&E apparently covered in stucco to better coordinate with their new building behind. This view carries Purcell's annotation, "G.G.E. says Punk but this picture tells the essential story [of] what we were after." Also in Mitchell is a firehouse with some fine Sullivanesque ornament.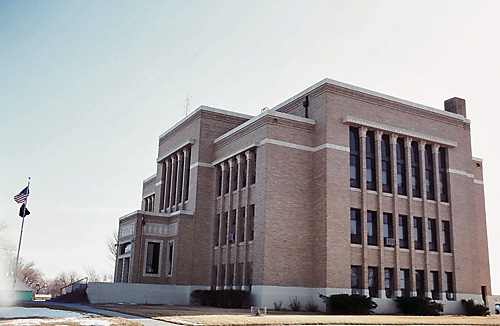 A 75-mile trip southwest would bring us to Lake Andes, seat of Charles Mix County and its William Steele-designed courthouse. Fresh from his "collaboration" with Purcell & Elmslie in the design of the Woodbury County Courthouse (where Steele left the entire design to Elmslie), it's intriguing to consider how that experience shaped Steele's work in Lake Andes. I hope to present a photographic comparison of these two buildings on this site later this year.
Following Hwy. 50, which parallels the Missouri River, would bring us to Yankton, with its clutch of late Elmslie buildings for the former Yankton College, now a minimum-security federal prison camp. While GGE designed seven buildings and built five, I (courtesy of Richard Kenyon) only have photos of two, a science hall and a men's dormitory.
From Yankton it's only sixty-five miles to Sioux City, where for almost twenty years Steele employed the Prairie idiom for churches, banks, libraries, residences, and commercial buildings. Many remain, though some, like the Livestock Exchange Bank, are gone, and others, like the Williges Store, have been threatened. It's perhaps not surprising that Elmslie and Steele, the two architects who teamed up to design the largest Prairie School building, continued to use this vocabulary well after it had been abandoned by others.
As always, I welcome your comments about this site or any Prairie School building.
John A. Panning, Lake City, Iowa