Random Notes - A Blog
30 August 2006
Howard Partridge, author of the excellent Cupola site, sends some additions and clarifications for listings in the San Jose area. A number of new listings represent the work of local architect Frank D. Wolfe. Very little of Wolfe's work can be seen on the web, though there is a print biography of his early work. Like so many other residential architects, Wolfe adapted the Prairie Style for clients who wanted a pleasingly modern yet comfortable house, and freely merged it with Colonial, Arts & Crafts, and other styles as fancy suggested.
Phil Adams, a fellow Traveler, sends a nice collection of images of Walter Burley Griffin's Stinson Memorial Library in Anna, Illinois, and an interior view of Wright's remodeling of the Dana Memorial Library in Springfield. He promises further photos from his travels around the Midwest. Thank you, Phil!
27 August 2006
Contributions have arrived in the last few days from friends of this site, both old and new. Architect Randolph Henning sends a handful of historic postcards from his collection.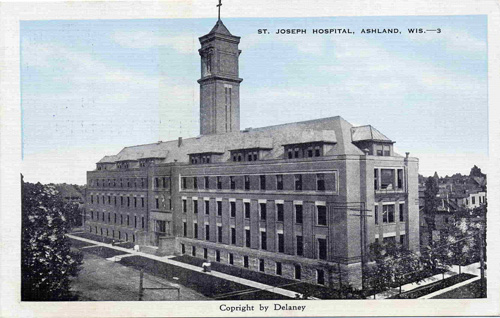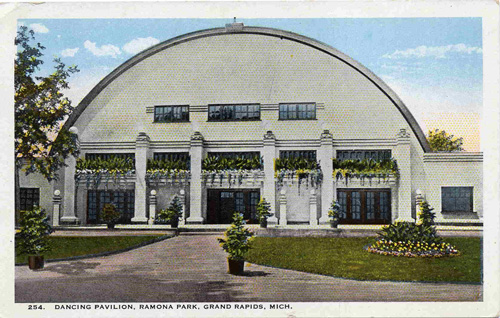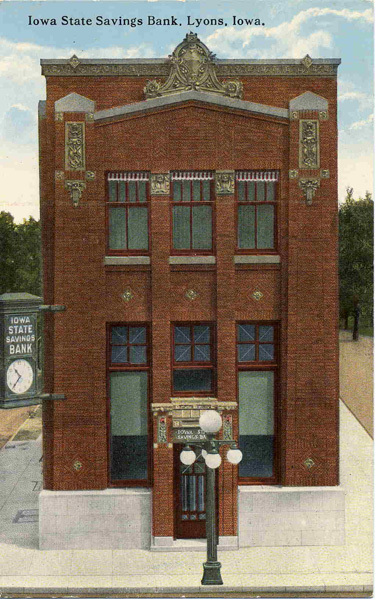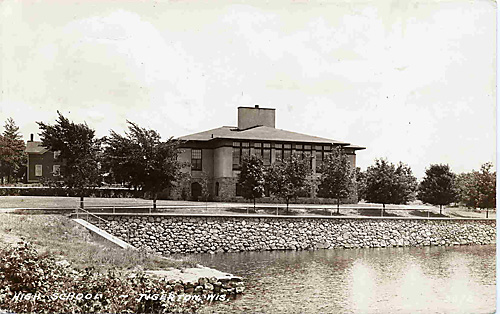 Information about two of these buildings is known to me. The Grand Rapids pavilion was part of Ramona Park, an amusement park built by a streetcar line, and was demolished in the 1950s. Lyons, Iowa is now part of Clinton, and the Iowa State Savings Bank, the work of local architect Harry Harbeck, still stands there. I have no information about the Ashland and Tigerton buildings; if you do, please let me know!
9 August 2006
When I first assembled the listings that were the precursor to this site, I drew information from books about Prairie School architects and my own travels, which for me are authoritative. As I worked to increase the scope of my lists, I looked farther afield, to the National Register of Historic Places, for example, or state and local websites about historic properties. As remarked upon elsewhere in these pages, however, these sources can be variable in quality.
So this means that the traveler may be surprised by the actual building sitting at an address listed in these pages. Your humble correspondent has recently had noteworthy experiences, both pleasantly surprising and not so surprising, that make this point.
Sidney, Iowa, is listed as the home, at 716 Illinois Street, of the Fremont County Savings Bank. It's said to be a work of The Lytle Company, a Sioux City, Iowa, firm known for bank designs in a wide variety of architectural styles. Pulling up on the west side of Illinois Street in Sidney, the traveler is faced with not one but two bank buildings in the space of one block. Commerical buildings often lack street numbers, so it's difficult to know which is the Lytle building in question.
As it happens, the building on the left, now home to First Community Bank, is located at 716 Illinois Street. The one that seemingly bears greater PS hallmarks is at 820 Illinois Street, and now occupied by a café. The writeup given in Gebhard & Mansheim's "Buildings of Iowa" clearly describes the building at 820, so I have changed the address in my list.
A more intriguing find is at 108 West Ninth Street in Atlantic, Iowa, where the Whitmare House stands in obvious emulation of Frank Lloyd Wright.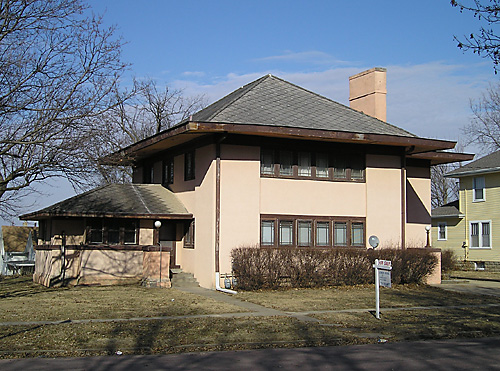 I know no details of the history of this house or its designer, but he was clearly familiar with Wright's "A Fireproof House for $5000". There are no comparable houses in the region; the Stockman House in Mason City is the closest built example. If nothing else, the Atlantic house's existence may show the reach of the April 1907 issue of Ladies Home Journal, in which Wright's house design appeared.
3 August 2006
A recent trip through Wisconsin took me through Lancaster, in the southwestern part of the state. Regionally famous for the copper and glass dome of the Grant County Court House (designed by Armand Koch in 1905), Lancaster also boasts a Prairie School novelty: a Claude & Starck building that houses the city offices and a theater under the same roof. While it appears that the city has grown beyond the confines of that building (an addition houses the police department, and the garages for the fire trucks have been given over to a meeting room), the building is still used for city functions and the Grantland Theater still shows first-run movies.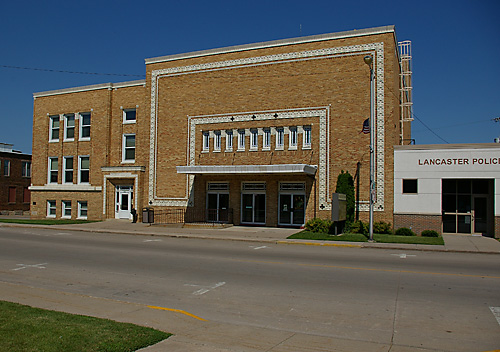 As always, I welcome your comments about this site or any Prairie School building.
John A. Panning, Lake City, Iowa