Random Notes - A Blog
30 November 2007
Assimilation of photographs graciously contributed by Rick McNees continues. He's visited a number of sites in Illinois and neighboring states for which no images appear on this site, so his photos are especially welcome.
A recent trip through Indiana offered the opportunity to visit several leads there, the most distinctive of which must surely be the Keightly House in South Bend. Designed by local architect Norman Roy Shambleau in 1912, it was built six years after Wright's DeRhodes house, which stands about sixteen blocks to the west. Although it is sadly no longer a residence, it has been gently reborn as an antiquarian book shop named Erasmus Books. In addition to offering an opportunity to see the interior, something my driveby shooting style of photography rarely presents, Erasmus also offered a copy of Lisa Germany's biography of Harwell Hamilton Harris, best known in our circles for his sensitive 1950s remodeling of Sullivan's landmark bank in Owatonna, Minnesota.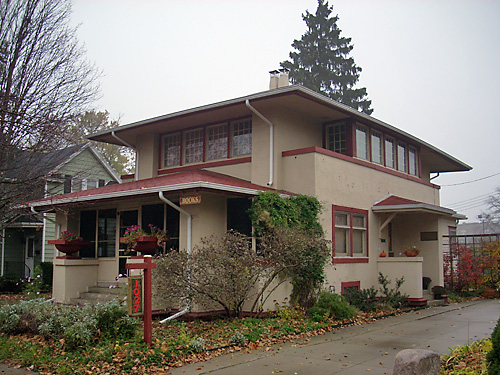 • • •
This month marks the second anniversary of The Prairie School Traveler. I'll spare you the statistical barrage presented in a previous entry, and say only that your interest in this work has been very gratifying. I offer my sincere thanks to those of you who have contributed photographs, leads or other information, which have added immeasurably to the richness of this site. Much remains to be done. Chicago and Minneapolis, cradles of the PS movement, remain embarrassingly thin in detail and image. Your contributions will be welcomed as readily in this third year as they have been in the first two!
As always, I welcome your comments about this site or any Prairie School building.
John A. Panning, Lake City, Iowa