27 June 2006
A recent trip across Illinois provided the opportunity to visit the bulk of former Sullivan draftsman Parker N. Berry's built work. His First State Bank of Manlius Building, now the home of the Manlius Historical Society, is receiving restorative repairs; masons were tuckpointing the building during my visit. The building shows the strong influence of Sullivan's Adams Building in Algona, Iowa, being essentially a two-storey version of Sullivan's single-storey building.
Nearby Princeton is home to Berry's Adeline Prouty Ladies Home, as well as his remodeling of an 1890s commercial building, now home to a Chinese restaurant. Princeton holds other gems, including an excellent Craftsman/Prairie library building by Chicago architects Patton & Young, now being abandoned in favor of newer digs in a remodeled grocery store.
23 June 2006
Architect Randolph C. Henning contributes several more historic postcards of Prairie School buildings, including a fine image of William Drummond's Brookfield Kindergarten and the interior of his River Forest State Bank, above. A little research may reveal whether this building exists; if it does, it almost certainly no longer retains its original banking room.
In addition, he sends the view below of an unknown house with PS features. The postcard has no identification of the building, although it is marked "Brand's Studios - Highland Park & Waukegan, Ill.", and carries a 1910 postmark. If you can identify this house, or have information about Drummond's River Forest bank, please drop me a line.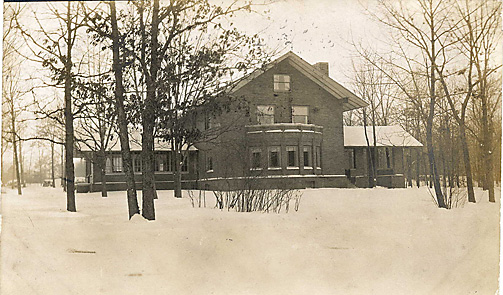 13 June 2006
Although there have lately been few comments in this humble little blog, work has been proceeding behind the scenes. This is mostly the incorporation of photographs contributed by Phil Pecord and Jack Lesshafft. Many are for obscure buildings by no-name architects, sometimes literally no name: no architect is known for many of these houses, which are probably the design of the contractor or perhaps even the owner. Even though they lack the visual panache of the landmark PS buildings, they show the style's richness of expression and breadth of acceptance.
Many of the listings in this site have come from architectural surveys or the National Register of Historic Places, and have been included, at least tentatively, because the architectural style is listed as "Prairie School". I have an occasional surprise when seeing an actual photo of a building whose listing is based on its description somewhere as Prairie School — it becomes clear that some buildings are described as Prairie School only because no other designation seemed to come to mind.