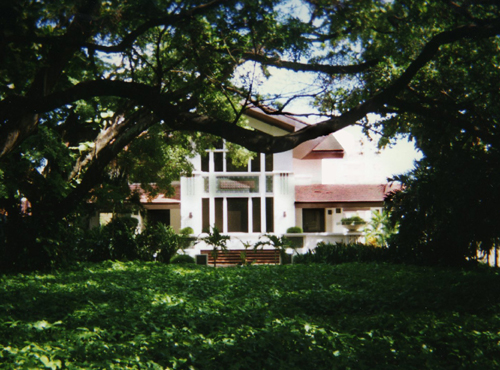 The residence that Nechodoma designed for wealthy businessman William Korber in 1919 was one of his greatest residential commisssions. In 1950 it was purchased by the Jewish community for use as a synogogue and was badly remodeled, leaving only traces of its former splendor.
The design of this building reveals Nechodoma's genius as well as his perplexing flaws. For the Korber residence he blatantly plagiarized Wright's Dana House, going so far as to trace much of his presentation drawing directly from Wright's Wasmuth portfolio. The similarities to the Dana house are excruciating, and yet the differences show Nechodoma's true architectural brilliance. Why a man of such talents should resort to such lax improbity is an enigma that will likely never be solved. Nechodoma cribbed Frank Lloyd Wright's Prairie designs for several of his other Puerto Rican residences. He also freely copied several non-Prairie School buildings that he observed in Jacksonville, Florida, where he worked for a year after fleeing his home in Chicago in 1905 in scandal.
Although the bones for the facade of the Korber residence were Wright's, its flesh was purely Nechodoma's. Eschewing the somber earth tones of Midwestern prairie, Nechodoma unleashed his tropical pallette with outrageously colorful bas-relief tile, art glass windows, and opalescent glass mosaics, both inside and out. The interior was filled with ornate mahogany trim with colorful glass insets.
Now all of this central living space of the Korber house has been removed to serve as a sanctuary. The outstanding Prairie School stained glass in the large windows of the main facade has been removed (and is rumored to be stored in the basement).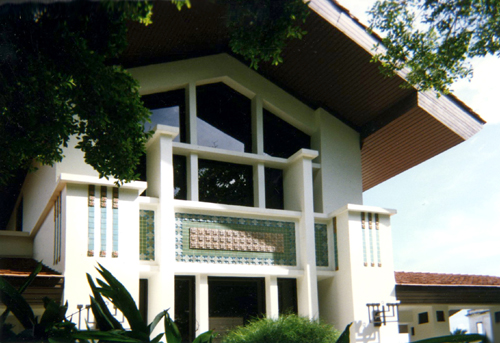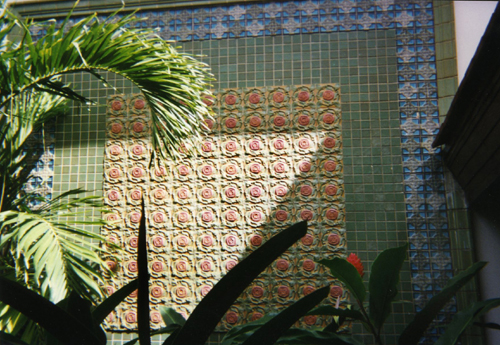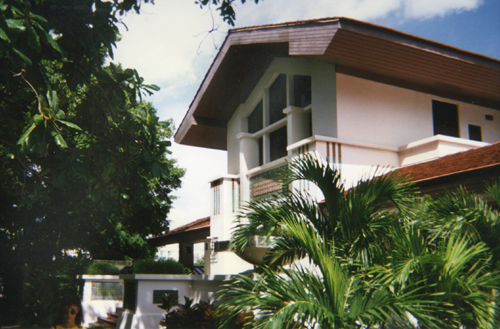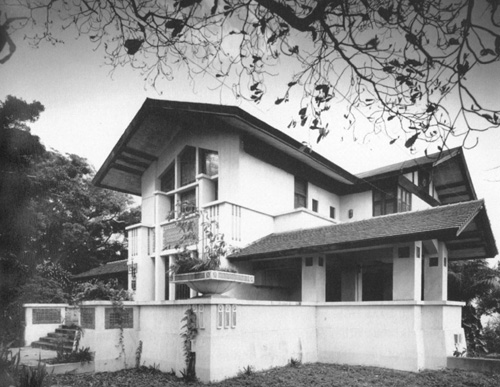 The Korber house as it appeared in the early 1950s