James Hotel
300 St. Johns Street
Palatka, Florida
Henry John Klutho, 1916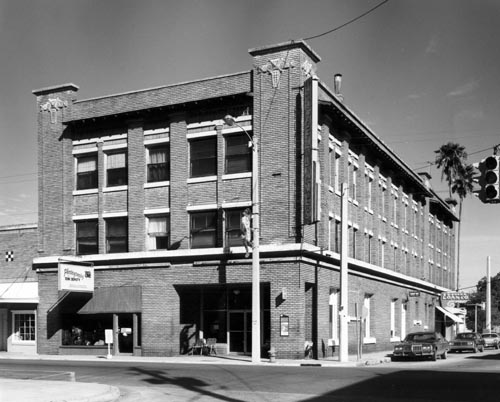 On 5 May 1916, ground was broken in Palatka (60 miles south of Jacksonville) for the new brick three-story James Hotel designed by Klutho for Dr. George E. Welch, president of the Putnam National Bank. This design by Klutho has more than a slight resemblance to Wright's City National Bank/Park Inn Hotel in Mason City, Iowa, built seven years earlier.
Klutho grouped the second- and third-story windows between brick pilasters with limestone sills and heads framing each opening, much as he had treated the south facade of the Florida Life tower in 1911. At each corner and at a secondary entrance, large brick pilasters rise above the roof parapets with fine abstract Prairie School terra cotta decoration. This decoration terminates delicate, projecting brick finials that run from the horizontal band at the second-story continuous sill. A projecting, shingled brow occurs over the third-floor windows above a perforated ventilation band serving the roof framing behind.
The James Hotel was completed on 10 November 1916, after only six months of rapid construction. Supervision of the hotel by Klutho was probably expedited by the excellent river steamer service between Jacksonville and Palatka. The hotel has been vacant for over eighteen years and, through neglect of the present owner, the interior has deteriorated to a point of collapse, though the exterior remains in good condition.
References
• Broward, Robert C.: The Architecture of Henry John Klutho: The Prairie School in Jacksonville. Jacksonville, Florida: The Jacksonville Historical Society, 2003.